World's longest elevated pedestrian loop adds new perspective on nature at one of the USA's largest zoos

Distribution of 56 EVID-S5.2X compact loudspeakers provides optimal combination of superior sound quality, low-profile looks and weatherized durability for Minnesota climate

True North Consulting Group designed sound and security system for the trail, ensuring both a safe and sonically satisfying experience for visitors
Burnsville, MN, Oct 2023 – The Minnesota Zoo in Apple Valley recently converted its elevated monorail track – closed for years – into the Treetop Trail, providing zoo visitors with a fresh perspective on the zoo's natural environment. True North Consulting Group, headquartered in Waco, TX with a local office in Stillwater, MN, was hired to design a new security and distributed audio system for the trail, the latter incorporating 56 Electro-Voice EVID-S5.2X loudspeakers.
"Throughout the year, temperatures range from -25 to 115 degrees (F) with snow, ice, rain and sun – it was of extreme importance that we utilize loudspeakers that are designed to withstand the harsh weather environment in Minneapolis," explains Jiggs Lee, technology consultant at True North Consulting Group. "The trail will be open year-round. The EVID-S5.2X offers exceptional audio quality and is known for its reliability and being built to last."
The 1.25-mile-long walking path brings guests up to 32 feet above the ground. The EVID loudspeakers are bracket-mounted on poles distributed throughout and under the trail and are used for public address, and any other sound reinforcement needs the zoo might have.
"In addition to its ability to handle the weather, we chose the EVID-S5.2X speaker for the Treetop Trail PA because of its full range and wide, uniform dispersion," adds Luke Mapes, Minnesota Zoo audio-visual technician. "Its small package and clean design offered minimal visual impact – another key component. We use the speaker system to make daily announcements and as an emergency PA if needed. We wanted a more musical-sounding speaker than the traditional PA system style speaker, for better intelligibility in speech reproduction. The EVID-S5.2X meets all our needs."
The EVID-S5.2X is a two-way, full-range, 5.25" compact surface-mount speaker designed for background and foreground music, voice evacuation, paging and sound reinforcement. It is engineered to resist the harshest weather conditions without compromising performance for indoor applications. The full-range speaker is IP65 rated, and its weatherproofing is complemented by exceptional cabinet and grille resistance against sun, salt, moisture and chlorine.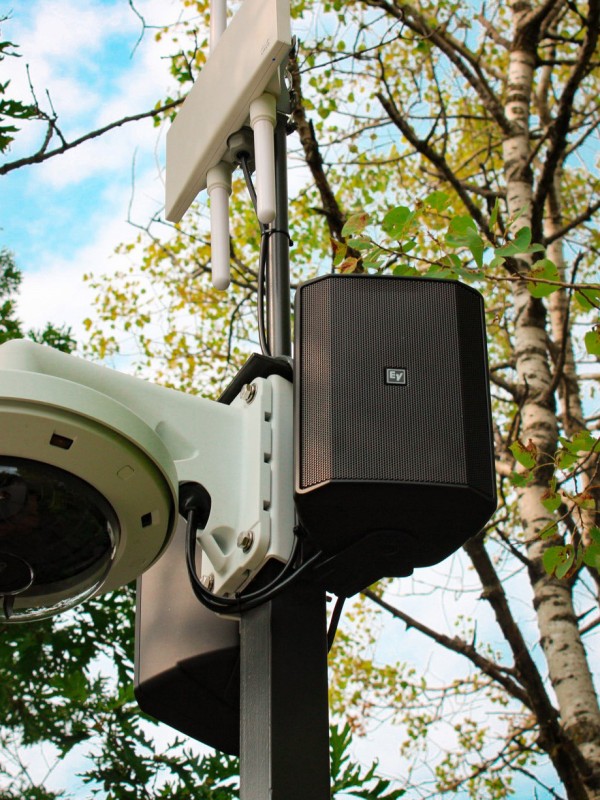 Loudspeakers that are designed to withstand the harsh weather environment in Minneapolis
The loudspeakers are supplied with an easy-to-install U-Bracket that allows for 80 degrees of rotation, which offers plenty of installation flexibility. Each pole is also equipped with security cameras and wireless access points, allowing easy access for monitoring and maintenance and providing cohesion with other systems in the park.
Minnesota Zoo director of guest experience Jessica Madole explains, "The public address system helps operationalize the zoo's closing procedures. It is also critical in assisting with weather-related closures and evacuations. In addition to zoo staff assisting guests in a weather-related evacuation situation, having the ability to announce information and instructions clearly across the entirety of the trail makes these efforts much more efficient."
The EVID-S5.2X utilizes a 60 W transformer that offers a selection of 7.5 (70 V only), 15, 30 and 60 W using either 70 or 100 V lines or 8-ohm bypass for low-impedance lines. Selection is done with a convenient switch on the input panel on the rear of the loudspeaker.
The True North Consulting Group team comprised of Jiggs Lee, Jon Martin (director of design services), and Micah Ramsey (project manager). Ramsey worked closely with Heath Meyer, senior project manager at Bluum Technology, the AV company that installed the new system. Bluum Technology is headquartered in Phoenix, AZ. Meyer works out of Bluum's Minneapolis office.
Lee concludes, "The zoo staff and visitors seem extremely pleased with the new exhibit and installed system. Working with Electro-Voice, located just a few miles away, really helped to make it a community project."